CSM Constanța and Agro Squad, the team of the Bucharest club Agronomia, shared their success in the elite categories in the first Sport Arena Streetball tournament of 2023. The 3×3 basketball competition, in which more than 500 players participated, ended on Sunday evening on the courts of the Politehnica University of Bucharest.
The finals of both the Men's Open and Women's Open categories had the same protagonists. The Agro girls, with Sonia Ursu, Romania's representative at the Tokyo 2020 Olympic Gamesnin the spotlight, won the final against CSM Constanta, 20-16.
Ursu was named MVP of the category after being the team's leading scorer with 45 points in five games, 24 of them coming from behind the arc.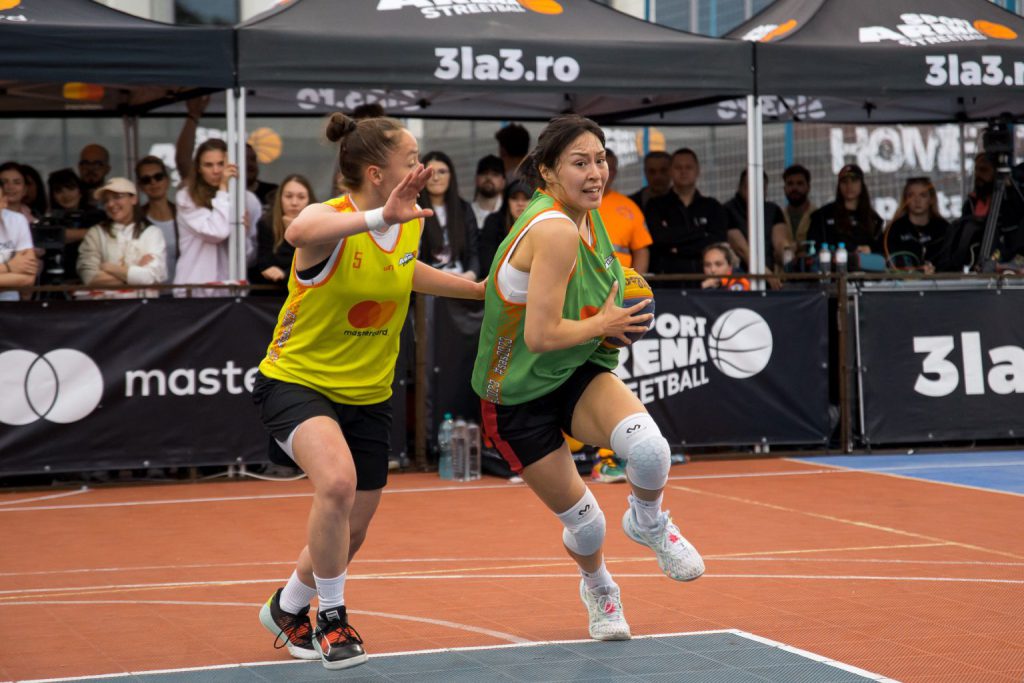 Constanta got their revenge in the men's final, after an electrifying game ended 21-20 for CSM. Mario Lazăr scored the decisive basket for the win, at the score of 20-20, and ended the tournament with 55 points in six games.
Lazăr was unstoppable in the restricted area, with 49 points coming from action near the rim. The player from Constanta was named the best player of the category. Both MVP winners were awarded a Tissot branded 3×3 watch.
Baby dunk contest – the attraction of the tournament
Saturday also featured the slam dunk contest, which had a unique preface. The youngest basketball players in the under 10 and under 12 age groups competed in a slam dunk contest on a ring lowered to the appropriate height.
The judging panel was made up of participants in the senior competition, while the top three finishers in the children's competition got the chance to judge their older favourites. Florea Paciup was the children's champion, while the senior competition was won by Bogdan Andronic from Agro Squad.
Andronic also impressed in the men's Open tournament. He was the hero of the semi-final against CSU ASE, won by Agro Squad 21-20, when he was his team's leading scorer with 9 points and directed a spectacular comeback based on three baskets from behind the arc.
Next tournament in two weeks
The second round of the Sport Arena Streetball 3×3 basketball circuit will be played on the weekend of 26-28 May, also on the courts of the Politehnica University of Bucharest. Registration will start on Monday 22 May on the official competition website, 3la3.ro.
The 2023 May Sport Arena Streetball competition calendar includes four rounds (26-28 May, 30 June – 2 July, 28-30 July and 25-27 August) with the final tournament taking place in Constanta, on 8-10 September.
Sport Arena Streetball events are brought to you by Mastercard, Nike, Horizon, Tissot, through the official distributor Albini Prassa, Ideal Board Games and the Romanian Basketball Federation.